Hey, It's Jess' 34th Birthday! (Ooh, she is a young pup!)
Jess is celebrating with a blog hop. I was invited and so are you!
Do join me at:
"It's My Party Blog Hop"
KinderStampO's 34th Birthday Celebration
Saturday, January 22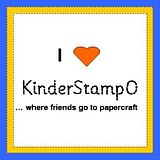 Starting at KinderStampO there are 43 blogs for party hopping. We will each display a craft related to the theme of birthdays. And, yes, we will be serving up a lot of treats (blog candy) along the way. I will be drawing a name for a beautiful handmade paper-bag scrapbook made by my friend Paula at Scrap Your World. This blog starts on January 22 at midnight and ends January 23 at 11:59pm. Be sure to stop at my blog for info on getting started.
So, if I don't see you in the meantime, come back this Saturday wearing your Best Party Clothes! Don't be late . . . .